12.14.2022 
STORM Therapeutics (CEO: Dr. Jerry McMahon; Headquarters: Cambridge, UK; hereinafter referred to as "STORM"), a clinical biotechnology company discovering and developing novel small molecule therapies targeting RNA modifying enzymes (RMEs) for oncology and other diseases, announced today the successful completion of a USD $30 million Series B financing round. The funds raised will be used to advance STORM's first-in-class clinical program targeting METTL3 for the treatment of solid tumors and leukemia. The company also plans to further expand its novel discovery platform in order to create additional products targeting RNA modification.
The financing was co-led by existing investors M Ventures, Pfizer Ventures, Taiho Ventures and Cambridge Innovation Capital (CIC). Existing investors, Seroba Life Sciences and IP Group plc, and new investors, Fast Track Initiative and the University of Tokyo Innovation Platform, also participated in the round.
View the original press release here: https://www.stormtherapeutics.com/media/news/storm-therapeutics-announces-closing-of-usd-30m-series-b-financing/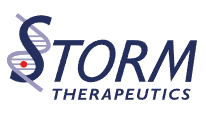 About STORM Therapeutics
STORM Therapeutics (STORM) is a clinical biotechnology company innovating the frontier of therapeutics by merging the deep expertise of RME biology and a unique platform of RNA analysis for use in oncology and other diseases. There are more than 150 RNA modifications reported and approximately 300 RNA modifying enzymes which represent novel therapeutic targets.
STORM has leveraged its first-mover advantage to establish a novel drug discovery and RNA analytics platform leading to the identification of novel targets and a proprietary pipeline of first-in-class small-molecule drug candidates for potential use in oncology, inflammation, viral infection and CNS diseases.
For more information, please visit www.stormtherapeutics.com or contact us at info@stormtherapeutics.com
About STC-15
STORM's lead clinical program STC-15 is a first-in-class inhibitor of RNA modification and is the first ever RNA methyltransferase inhibitor to enter clinical development in humans. STC-15 is an oral small molecule that inhibits METTL3 which is an RNA methyltransferase implicated in oncology and other diseases. Certain RNA methyltransferases are important regulators of RNA sensing and innate immune activation and represent novel immune-regulatory targets.
STC-15 has also been shown to inhibit tumor growth through mechanisms involving anti-cancer immune responses such as changes in interferon signaling and synergy with T cell checkpoint blockade. In addition, STC-15 has shown efficacy in leukemia models via mechanisms including inhibition of leukemia stem cell function.
About Fast Track Initiative:
Established in 2004, Fast Track Initiative, Inc. (FTI) is a life science venture capital firm focusing its investments on grow seed and early-stage startups with a strong focus on biotech and therapeutics. FTI has a strict mission to make a ground-breaking impact on the quality of our life and human wellness through investments across a broad range of areas in the life science community including diagnostics, digital health, healthcare services, and more. The company provides full, hands-on operational support to its 30+ portfolio companies through business and R&D strategy, investor syndication, and more, including access to their exclusive network of leading industry professionals in Japan. Visit https://us.fasttrackinitiative.com for more details, or follow us on LinkedIn: https://www.linkedin.com/company/fast-track-initiative/. For press inquiries or investor inquiries, please email:  message.us@fasttrackinitiative.com